Environmental Services
Prepurchase Site Evaluations
Our environmental consultants can guide you through the regulatory obstacles required for site and land development, property conservation, and pond development. Our extensive experience in permitting and environmental evaluations can provide you with a list of requirements, procedures, fees, or whatever is required based on the scope, location, and related environmental issues so that planning and costing can be better conducted for project completion.
case study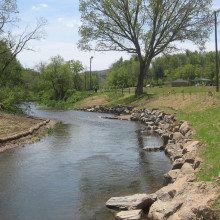 CLIENT: Watauga County Economic Development Commission, Watauga County, North Carolina
PROJECT DESCRIPTION: Watauga County, in cooperation with the planning efforts of the Watauga County Economic Development Commission, retained McGill Associates to develop a Due Diligence investigation of a 200-acre tract of property located at 3900 NC Highway 194 North near Boone for developing the property as a new business park. McGill Associates performed investigation services to determine existing site conditions, potential environmental concerns, development of potential considering existing site constraints, and preliminary evaluation of necessary utility improvements for the site.
at a glance
Phase I / II Environmental Site Assessments
Pre-Purchase Environmental Evaluation
Stormwater Management Consulting Services
Site Assessments / Investigations
Corrective Action Plans