Electrical Engineering
Power and Controls
McGill Associates' electrical team specializes in industrial power and control systems. We have broad experience with medium and low-voltage industrial power, industrial single- and multi-process plc-based control systems, along with large control system integration utilizing state-of-the-art SCADA system technologies. Our electrical services involve transmission and distribution substations; overhead and underground transmission; distribution lines; standby power generation; emergency power; SCADA; and fiber optic cabling. The team has extensive knowledge and specialized training for electrical engineering design and construction management of water and wastewater treatment plant and pump station electrical systems and controls.
case study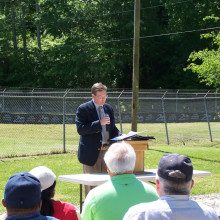 CLIENT: City of Henderson, North Carolina
PROJECT DESCRIPTION: McGill Associates recently completed the design of improvements for the expansion and upgrade of the City of Henderson's Wastewater Treatment Plant. The design incorporated the use of new and existing process equipment. The electrical infrastructure was installed in the 1980s and was in descent condition, which allowed the improvements to be accomplished by adding some new equipment instead of needing to replace all of it, recognizing a cost savings to the owner. The plant currently has an outdated Supervisory Control and Data Acquisition (SCADA) system which is being replaced and modernized. The current SCADA system contained hard wired points from all throughout the plant which are connected to a large board in the control room. This large board, complete with activity and alarm lights, is the operators' window to the plant. This board and all of the hard wire digital control will be replaced. New SCADA improvements are based on a multi-mode fiber optic star topology, but with redundancy. This will allow communications to flow to and from a programmable logic controller even if one of the communication rings is damaged. A new computer with a new human machine interface (HMI) package will be installed to allow the operators to view the entire plant and see levels, flows, and equipment status. In addition to a new inner plant SCADA system, a new licensed frequency radio system is also being designed to allow the City to communicate with pump stations throughout its system.
at a glance
Power System Planning and Design
Power System Analysis and Studies
Power System Distribution Plans
SCADA System Design
Water and Wastewater Treatment Controls and Instrumentation